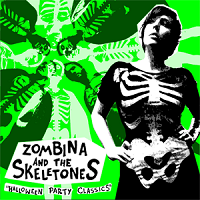 Zombina i towarzyszące jej Szkielety dobrze wiedzą, jak zdobyć sobie przychylność i sympatię fanów. Po prostu co jakiś czas wypuszczają kilku utworową EP-kę, którą za darmo można ściągnąć sobie ze strony www.myspace.com/zombinaarmy. "Halloween party classics" to drugie takie wydawnictwo – pierwszym było "Chainsaw for Christmas" wydane w ubiegłym roku.
O ile "Chainsaw for Christmas" zawierało autorskie kompozycje zespołu, to na "Halloween party classics" otrzymujemy cztery przeróbki popularnych hitów. Najbardziej znanym z nich jest "Show me heaven", który wciąż można czasem usłyszeć w radiu. "Dracula's tango" również może być niektórym znany, podobnie "Monster mash" – przypomniany parę lat temu przez Misfits na płycie "Project 1950". Kompletnie nie kojarzę jedynie "Strangelove", którego sława jakimś cudem musiała ominąć Polskę.
Pod względem muzycznym otrzymujemy to, do czego przyzwyczaiła nas Zombina i Szkielety: dwanaście i pół minuty bezpretensjonalnego, melodyjnego pop-punk-rock'n'rolla, w którym czuć autentyczną radość z grania. Słucha się tego jak zawsze przyjemnie, a nóżka sama zaczyna tupać. Moim osobistym faworytem jest tu "Show me heaven" – najbardziej czadowy z czwórki utworów, w którym Zombina udowadnia, że wciąż kompletnie nie potrafi śpiewać. Oczywiście nic sobie z tego nie robi – i bardzo dobrze!
Radzę czym prędzej ściągnąć tę EP-kę. Muzyka w sam raz na cmentarną potańcówkę… I czy komuś przeszkadza, że wyszła ponad miesiąc po Halloween?
Zombina And The Skeletones – "Halloween Party Classics" (EP) – Ectoplastic 2007