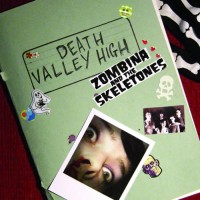 Zombina and The Skeletones to brytyjski zespół grający czadową wesołą muzykę z pogranicza horror-punka i rock'n'roll lat 60′, podanego w dość świeżej "trupkowatej" formie, można by powiedzieć, że punk-popowej.
"Death Valley High" to drugi pełnowymiarowy album zespołu, moim zdaniem bije jednak na głowę wszystkie pozostałe nagrania Zombina And The Skeletones, jakie dotąd się ukazały, nowy album na pewno wyróżnia się swoją świetną produkcją i dopracowaniem, chociaż zachowana jest odrobina garażowego"brudu w grze zespołu – co jest olbrzymim plusem.
Muzycy zespołu po wielu nieudanych próbach nakręcenia własnego horroru, skupili swe starania na nagraniu nowego koncept-albumu inspirowanego kiczowatymi horrorami klasy "B", historia przedstawiona na albumie przedstawia się mniej więcej tak: "… uzależniona od horrorów szalona nastolatka spotyka szalonego żartobliwego naukowca na koncercie Devo, później niszczą razem szkołę, następnie cały świat, a wszystko to za pomocą laserów.".
Już sama wkładka płyty rozbawia swym wykonaniem, znajdujące się w niej teksty piosenek wyglądają jakby były napisane na kartkach z zeszytów, w pamiętnikach, na testach szkolnych itp. "Szkolniackie", głupkowate teksty śpiewane głównie słodkim głosem wokalistki Zombiny, szalony klimat rock'n'rolla lat 60′, okraszony w odpowiednich proporcjach dźwiękami retro-klawiszy to również świetna propozycja na nie jedną imprezę. Moje typy to utwory: "Lost Boys", "Villain" (z klawiszami żywcem wyjętymi z kreskówek), "Janie's Got A Dissolvo Ray", chociaż i przy pozostałych można się też nieźle wyszaleć, a jest z czego wybierać, gdyż na albumie znajduje się aż trzynaście kompozycji.
Utwory zawarte na "Death Valley High" są bardzo chwytliwe, cały album jest naładowany pozytywną energią, od początku do końca. Jeśli szukacie czegoś niezbyt skomplikowanego, wesołego, zwariowanego, czegoś co wam poprawi nastrój to w pełni mogę wam polecić ten album.
Zombina And The Skeletones – "Death Valley High" – Ectoplastic Records 2006