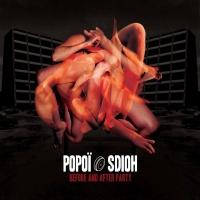 Bardzo długo czekaliśmy na nowy album szaleńców z francusko-belgijskiego gangu Popoi Sdioh, warto jednak było czekać – doczekaliśmy się wspaniałej kontynuacji i rozwinięcia debiutanckiego krążka zespołu, nowy album kapeli zatytułowany "Before And After Party" został wydany we współpracy wydawnictw Nerves Prod. oraz Brouillard Definitif.
"Before And After Party" bez wątpienia można nazwać ekstatycznym muzycznym odlotem, pełnym chorych doznań, wciągającym słuchacza niczym najsłodsza używka do brutalnego obłąkanego świata, jednak czy aby zupełnie innego od tego który nas otacza? Raczej nie!
Płyta jest pełna hipnotycznych elektronicznych smaczków, mocno zarysowane są także post-punkowe akcenty, tradycyjnie już Popoi Sdioh zalewa nas nieprzewidywalnymi plemiennymi rytmami, słuchacze dla których dokonania Virgin Prunes oraz Killing Joke nie są obce, mogą doszukać się strzęp inspiracji muzyką tych kapel. Określenie tribal industrial batcave jakim swoją muzykę opisują sami muzycy Popoi Sdioh jest chyba najtrafniejszym określeniem tego co usłyszymy na "Before And After Party".
"Before And After Party" to godny polecenia rasowy kawał surowego mięcha dla każdego wymagającego słuchacza, który chciałby poczuć czym smakują odmienne stany świadomości – czas już zacząć imprezę z Popoi Sdioh!