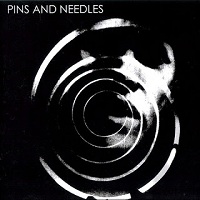 Ten album to cudo! Pins And Needles grają deathrocka dokładnie takiego, jakiego najbardziej lubię: bez zbędnego pseudo-mrocznego zamulania, z mocną, post-punkową energią, co dla mnie stawia ten wydany już 3 lata temu album w jednym rzędzie z takimi klasykami, jak pierwsza płyta Christian Death czy 45 Grave, przy czym P&N w ogóle nie przypominają żadnego z grających kiedyś czy obecnie zespołów.
Na tym jedynym jak dotąd wydawnictwie Kalifornijczyków nie ma słabych momentów, a każdy z trzynastu utworów to potencjalny hit, przy którym z pewnością nie będą się dobrze bawić żadni romantyczni metalowcy ani plastikowi miłośnicy elektronicznych bitów. To jest płyta, która czerpie wprost ze źródeł mrocznej muzyki i jest odporna na wszelkie nowsze bądź starsze jej wypaczenia, a jednocześnie jest świeża i nie kopiuje żadnych ogranych patentów. Ja odjeżdżam zarówno przy czadowych "Specimen" czy "Asylum", jak i nieco orientalnym "Time", bo ta płyta to cudo jakich ostatnio nie ma aż tak wiele.
Od dwóch lat o zespole było nieco cicho, ale ostatnio zbudzili się z letargu, co zaowocowało między innymi współpracą z moimi ulubieńcami z The Deep Eynde, na których ostatnim albumie John May, lider Pins And Needles, zagrał na basie w czterech utworach. Obydwa zespoły zaczęły grać też wspólne koncerty, co budzi we mnie małą nadzieję, że Fate Fatal i koledzy zabiorą swych znajomych na kolejną europejską trasę. Nie ukrywam, że bardzo by mnie to ucieszyło.
Pins And Needles – "Pins And Needles" – Pins And Needles 2005