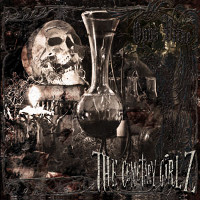 Cztery lata czekaliśmy na nowy album The Cemetary Girlz, no i w końcu się doczekaliśmy! Z początkiem czerwca 2013 z  podziemi paryskich katakumb wyłonił się nowy album tego francuskiego deathrockowego tria zatytułowany "Opus Vitae". Od wydania debiutanckiej płyty sporo się działo w szeregach The Cemetary Girlz, kapela dużo podróżowała grając niezapomniane, pełne energii koncerty na całym Starym Kontynencie, w tym czasie nastąpiły też zmiany personalne – aktualnie skład zespołu przedstawia się następująco Alien S.Pagan – wokal / gitara, Elvira (Elvira  and The Bats) – gitara basowa / klawisze, DivaRe (ex-Deadchovsky / Castrati) – perkusja – komentarz chyba jest tutaj zbędny – prawdziwy "dream team", chociaż lepiej by tu pasowało określenie "nightmare team".
"Opus Vitae" to zupełnie nowy rozdział w działalności The Cemetary Girlz, bez wątpienia można powiedzieć że zespół wykonał olbrzymi krok na przód, kompozycje są zdecydowanie bardziej złożone i rozbudowane od tych które znaliśmy z płyty "Smoke My Brain" – jadowicie sączące się z głośników dźwięki sprawiają że wręcz możemy poczuć oddech śmierci na swym ramieniu! Tajemniczość, cuchnący trupem chłodny klimat, fatalizm, momentami przerywany maniakalnymi absyntowo-muzycznymi galopadami – czego chcieć więcej? "Opus Vitae" to jak najbardziej jazda obowiązkowa dla fanów wykolejonych deathrockowych brzmień.
Podobnie jak w przypadku wcześniejszej płyty The Cemetary Girlz, wydawcą "Opus Vitae" jest wytwórnia Manic Depression Records.
www.facebook.com/thecemetarygirlz
www.manicdepressionrecords.com