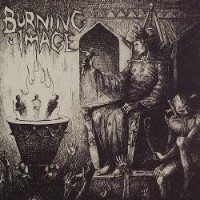 "Zespół który nie chciał umrzeć…" – tak zaczyna się opis zespołu spisany przez Moe Adamsa, wokalistę Burning Image, i chyba ma on całkowicie racje. Burning Image powstał w Beakersfield w Kalifornii w lecie 1983 roku. Opierając muzykę na brzmieniu brytyjskich zespołów gotyckich oraz kalifornijskich kapel horror-punkowych, amerykanom szybko udało się zwrócić uwagę lokalnej sceny muzycznej. Szybko zostali odkryci przez Jello Biafrę (wokalista Dead Kennedys oraz założyciel wytwórni Alternative Tentacles). Po wydaniu jednego singla zawierającego "The Final Conflict" oraz "Burning Image, Burning" i kilku koncertach z Dead Kennedys, 45 Grave, Specimen, zespół zniknął tak szybko jak się pojawił… ale nie umarł!
W tym roku ukazał się właśnie nakładem Alternative Tentacles debiutancki krążek amerykanów: "1983-1987" zawierający nagrania z czasu istnienia zespołu. Już po pierwszych kawałkach pewne się staje, iż mamy do czynienia z zespołem grającym tzw. "batcave". Choć Burnig Image jest zespołem amerykańskim, pozostaje pod wielkim wpływem europejskiej szkoły i takich kapel jak Specimen, Killing Joke, Alien Sex Fiend czy Flesh for Lulu. Wszystko przemieszane otoczką horroru i szaleństwa tworzy wyśmienity zespół i płytę, której sie nie odkłada na półkę. Kawałki jak "Burning Image, Burning", "You've Changed" czy "Hives" przejdą na pewno do historii jako jedne z najlepszych kawałków gatunku.
Dobrze, że znajdują się jeszcze chętni do wydania takich albumów. Ja jestem nadal pod wrażeniem… Co więcej: zdałem sobie sprawę jak wiele późniejszych krążków przypomina mi ta płyta. Przywołać mógłbym tu Chants of Maldoror, "The Rage of Angels" Christian Death czy choćby całą młodą europejską scenę "death'n'rollową".
Burning Image – "1983-1987" – Alternative Tentacles Records 2004