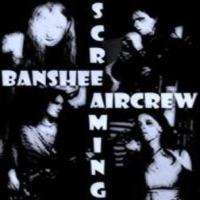 The Screaming Banshee Aircrew to młody brytyjski zespół piszący o sobie, iż gra mieszankę klasycznego brytyjskiego gotyku, deathrocka oraz nowocześniejszych, elektronicznych mrocznych rzeczy. W 2001 roku zespół wydał swoją pierwszą płytę, faktycznie nawiązującą do podanych źródeł. Mamy tu do czynienia z nowoczesnym, elektronicznym gotykiem z nutą szaleństwa. Już przy tej płycie drażnił mnie jednak wokal jednej z pań w zespole, pomimo tego płytka podobała mi się. Kawał dobrej, rzemieślniczej roboty, może trochę bez własnej inicjatywy, ale generalnie miła do posłuchania.
W roku 2003 zespół wydał nową płytę, "Titanic Verses", początek pierwszej piosenki jest bardzo obiecujący. Ściana brudnych, elektrycznych gitar prezentuje się bardzo miło w porównaniu z poprzednim krążkiem. Jednak w tej samej, pierwszej piosence razi mnie fragment mówiony, psujący całą melodyjność utworu. Początek płyty jest całkiem ciekawy, utwory "Titanic Verses", "Adore", "Insect Boy" wpadają w ucho i bez dwóch zdań mają w sobie pewnego kopa, którego dziś wielu zespołom brakuje. Im jednak dalej słucham, tym gorsze mam zdanie o płytce. Utwory zaczynają stawać się nudne, pachną popowymi wręcz melodiami.
Generalnie "Titanic Verses" jest płytą o wiele lepszą niż jej poprzedniczka. Ekipa z The Screaming Banshee Aircrew pokazała, iż stać ją na trochę kreatywnego myślenia i stworzenie kilku całkiem fajnych piosenek.
The Screaming Banshee Aircrew – "Titanic Verses" – Wydanie Własne 2003