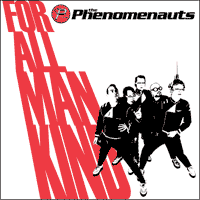 Zbliża się premiera nowej, trzeciej pełnowymiarowej płyty "najodważniejszej kosmicznej ziemskiej kapeli" – The Phenomenauts. Album będzie nosił tytuł "For All Man Kind", a dokładna data premiery krążka została wyznaczona na 8 kwietnia.
Ta pochodząca z Oakland w Kalifornii grupa stanowi mieszankę punka rodem z lat 70′, new wave, psychobilly, dobrych tekstów i tematów żywcem zaczerpniętych z filmów science-fiction. Teledyski tej kapeli są także mocno osadzone w klimacie "kosmicznych wypraw" i "potworów z kosmosu", takich jak np. Star Trek. A wszystko okraszone porcją solidnej, pokręconej muzyki.
Gratka dla fanów lat 50′ i psychobilly oraz fanów Devo oraz Adam & The Ants.