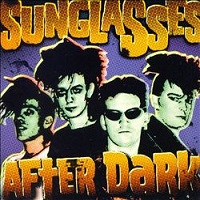 Płyta Sunglasses After Dark to już trzydziesta druga pozycja w wydawanej przez Cherry Red serii Goth Collectors. Zespół ten – przez lata chyba nieco zapomniany i niedoceniany – tworzyli Bailie Harkness na wokalu, David "Mitch" Mitchell na gitarze, Simon Cohen na skrzypcach i Mark Steadman na perkusji. Grupa ta zasłynęła przede wszystkim jako – obok Alien Sex Fiend – protoplaści popularnego w ostatnich latach nurtu gothabilly, z tym, że w ich muzyce rock'n'roll odgrywał główną rolę, a nie był – jak w przypadku ASF – jedynie dodatkiem.
Na opisywanym przeze mnie CD zebrane zostało wszystkie dziewiętnaście utworów, jakie SAD nagrali podczas swojego istnienia. Pierwsze czternaście pochodzi z jedynego pełnowymiarowego materiału zespołu, wydanej już pod koniec istnienia zespołu koncertówki. Jak na tamte czasy materiał brzmi bardzo dobrze, czuć koncertową energię – jest to porządny, rock'n'rollowy show uzupełniony kilkoma mroczniejszymi, post-punkowymi wstawkami.
Ten koncert jest jednak niczym przy pięciu pozostałych, studyjnych utworach. "Morbid silence" to mroczny kawał pierwotnego gotyku, który z jakichś powodów nie stał się ponadczasowym klasykiem. "Untamed culture" z kolei spokojnie mógłby znaleźć się w repertuarze którychś z kalifornijskich deathrockerów. "Swamp baby" brzmi jak skrzyżowanie Bauhaus z The Meteors, a "Let's go" i "Hell-hag shuffle" to dwa jurne, diabelskie rock'n'rolle.
Dodatkiem dla tych, którzy lubią również wizualną stronę albumów, jest wkładka z wyczerpującą historią kapeli autorstwa Simona Cohena. Jako bonus dostajemy błąd w liście utworów, ale to chyba niewiele nieznaczący szczegół.
Polecam tę pozycję wszystkim tym, którzy lubią wynajdywać zapomnianych klasyków naszej ulubionej muzyki. Pięćdziesiąt minut dobrej zabawy gwarantowane.
Sunglasses After Dark – "Sunglasses After Dark" – Cherry Red 2008