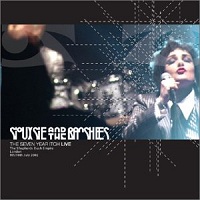 Pozytywne recenzje narobiły mi smaku na koncertowe DVD Siouxsie pod tym samym tytułem, ale niestety Allegro miało w swym asortymencie jedynie CD. Zachęcony zakupiłem je i z początku lekko się zawiodłem – po porównaniu listy utworów okazało się, że tu jest ich mniej. Jest ich czternaście zamiast siedemnastu i – niestety – brakuje tego, na którym najbardziej mi zależało, czyli mojego ulubionego "Spellbound". Jeśli dodam, że dwie pozostałe "zguby" to "Happy House" i "Christine", to już w ogóle robi się smutno.
Ale nie jest tak źle, bo płyta jest dobrze nagrana i zagrana, czuć energię bijącą ze sceny zwłaszcza w takich kawałkach jak "Monitor" (mój osobisty ulubieniec na tym albumie) czy w kończącym "Peek-a-boo". Momentami pojawiają się niedociągnięcia wokalne – Siouxsie nie wyciąga należycie niektórych wyższych dźwięków, ale nie przeszkadza mi to specjalnie, jej mogę to wybaczyć. Także dobór utworów jest zadowalający, pojawia się sporo kawałków z początkowego (moim zdaniem najlepszego) okresu twórczości zespołu.
Na krążku został zarejestrowany materiał z The Sheperds Bush Empire w Londynie z 9 Lipca 2002, kiedy to zespół wystąpił w składzie: Siouxsie Sioux, Chandler Knox, Steve Severin, Budgie, poprostu nic dodać, nic ująć! Nie napiszę za wiele o oprawie graficznej krążka, bo mój egzemplarz to jedynie promówka w tekturowej kopercie, idzie pomyśleć, że była dodana do "Tiny" albo innej "Przyjaciółki". W każdym razie Siouxsie na jej przedzie wygląda nieźle mimo pięćdziesiątki na karku.
Siouxsie & The Banshees – "The Seven Year Itch" – Sanctuary 2003