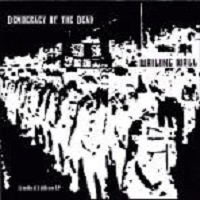 Mistrzostwo świata! Wailing Wall grają falowy deathrock lub jak sami to nazwali "dark postpunk" w starym stylu i rzecz jasna pochodzą z Kaliforni. "Democracy of the dead" to niestety tylko trzyutworowa epka wydana w 100 kopiach. Pierwsze nad czym wypada się zachwycić to jakość dźwięku. Selektywne brzmienie instrumentów i dobrze nagrany wokal naprawdę zachęcają do słuchania. Wailing Wall jako kolejni udowadniają, że wciąż aby ciekawie grać wystarczą wokal, bas, gitara i bębny. Żadne tam elektroniczne pierdoły i "lalala" w refrenie. Lista ich inspiracji sprawia, że człowiek siedzi i z radością kiwa głową. Zresztą nie mamy do czynienia z debiutantami bo zespół istnieje od 1989 roku.
W "Democracy of the dead" najbardziej podoba mi się to, że od razu wiadomo kto czego słucha. Basista siedzi mocno w falowym graniu, gitarzysta z wokalistą mają odchyły punkowo-gotyckie, bębniarza nie pytałem. Razem tworzą mieszankę wybuchową i czuć to w każdym utworze. "Car Cash Sudany" ze wstępem w stylu Joy Division przechodzi w kompozycję bliską dokonaniom wczesnego Christian Death z klimatycznymi zmianami tempa. "Dancing In The Aftermath" to murowany hit koncertowy. Szybki i porywający numer. "Stranger" to trochę mroczniejsza strona zespołu, bardziej odjechany początek, plemienne bębny, gitarowa ściana dźwięku i zawodzący wokal. Ta muzyka aż tętni życiem, słychać, że panowie mają siłę, radość grania i duży talent.
Słyszałem jeszcze dwa utwory zespołu niestety bez podanych tytułów, które tylko umacniają mnie w przekonaniu, że Wailing Wall to zespół, na który warto zwrócić uwagę i który trzeba gorąco wszystkim polecić!
www.myspace.com/wailingwall
Wailing Wall – "Democracy Of The Dead" (EP) – Vinyl Llama 2007