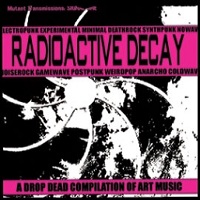 "Radioactive Decay" jest pierwszym albumem wydanym przez Mutant Transmissions – ekipę znaną m.in. z publikowania magazynu Drop Dead i organizowania festiwalu o tej samej nazwie. Składanka ta ma na celu promowanie muzyki niekoniecznie mrocznej, w każdym wypadku jednak zakręconej i oryginalnej.
Na płycie otrzymujemy 22 utwory w wykonaniu tyluż zespołów. Wszystkie kawałki, co do jednego, stoją na najwyższym artystycznym poziomie – zarówno w przypadku starszych, uznanych kapel (jak Ausgang, Charles de Goal, The Dancing Did), jak i tych nowszych, którym już udało się uzyskać całkiem sporą popularność (Dandi Wind, Naughty Zombies, Din Glorious, Sixteens) czy też grup niemal kompletnie nieznanych, takich jak np. minimalistyczny Jean-Paul Yamamoto, synth-punkowe Jellowaste czy kompletnie pokręcone Strip Mall Seizures. Wyraźnie słychać, że "Radioactive Decay" to nie żadna przypadkowa zbieranina różnych utworów, lecz starannie dobrana kompilacja.
Ekipa Mutant Transmissions odwaliła kawał dobrej roboty także pod względem oprawy graficznej albumu. Płyta, wydana w eleganckim digipacku, oprócz ucha cieszy także oko, a po spojrzeniu na zamieszczone w środku zdjęcia zespołów momentalnie wiemy, czego można spodziewać się po muzycznej zawartości krążka.
"Radioactive Decay" godne jest polecenia każdemu, kto pragnie zapoznać się z konkretną porcją odjazdowych czadów, w szczególności didżejom, dla których może się ona okazać kopalnią parkietowych hitów – o ile, oczywiście, nasza polska publiczność zacznie się w końcu bawić przy innych kawałkach niż oklepane aż do znudzenia standardy. Album nie powinien w każdym razie zawieść żadnego fana post-punka, deathrocka, no wave czy synth-punka.
Michał Karpowicz
Tracklista:
1. Strip Mall Seizures – Possessed
2. The Dancing Did – The rhythm section sticks together
3. New Collapse – Am I not
4. Theatre of Ice – Miron (Drop Dead edit)
5. Experimental Dental School – Oakland Lake Legz (got their way)
6. Ausgang – Strip me down
7. Din Glorious – Panic face!!!
8. Jean-Paul Yamamoto – Starbucks hyper bitch
9. Naked on the Vague – All aboard
10. Rubella Ballet – Arctic flowers (12″ mix)
11. Sudden Infant Death Syndrome – 6 ft. tall wind-up doll
12. Sixteens – Clear area
13. Charles de Goal – Exposition
14. Dandi Wind – Scott Wood
15. Night Wounds – Nineteen
16. Marfa & Ne-Af – Logs
17. Medio Mutante – Corre
18. Naugty Zombies – I hate you
19. Jellowaste – Steamengineering
20. Yip-Yip – Club mummy
21. Deaf Deaf – Loss of appetite
22. I Can't Read – The enjoyment of talk
V.A. – "Radioactive Decay – A Drop Dead Compilation of Art Music" – Mutant Transmissions 2007