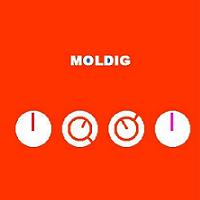 Przebojowa mieszanka post-punka i klimatycznego gotyckiego rocka prosto z Włoch. Stosunkowo lekka i łagodna, co wbrew pozorom wcale nie jest zarzutem.
Moldig to duet. Enrico zajmuje się gitarą a Giuditta śpiewa i gra na basie (basistki – to, co tygryski lubią najbardziej). Na koncertach wspomaga ich bębniarz Fabio. Zespół pojawił się na kilku składankach m.in. "Notes From the New Underground" wypuszczonej pod banderą www.post-punk.com.
Demo to cztery utwory, z których najlepszy to falowy "The Treachery" i nostalgiczny "Strangers". Dużo gitarowych pajączków, niski bas, dziewczę na wokalu, automat perkusyjny. Cieszy właściwie absolutny brak elektroniki i podobieństw do krajan z Lacuna Coil. Można wręcz powiedzieć, że Moldig są i próbują być "oldschoolowi". Słyszałem także jeszcze jeden utwór niedawno nagrany przez Moldig, który wskazywałby na pójście zespołu w kierunku wczesnego gotyku/batcave, ale nie dam za to ręki uciąć. Nie przedłużając czekam na płytę. Włochom zaufali organizatorzy Drop Dead Festival i będzie można ich zobaczyć na tegorocznej edycji w Pradze.
www.myspace.com/moldig
Moldig – "Demo 2006" – Wydanie Własne 2006