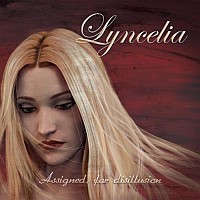 Lyncelia to francuski zespół którego historia sięga 2008 roku, zespół nie kryje się z tym że jego główne inspiracje sięgają chłodnych i mrocznych zakamarków muzyki lat 80′ i dokonań takich kapel jak The Cure, Clan Of Xymox, The Danse Society oraz The Sisters Of Mercy – pomimo wyraźnych nawiązań Lyncelia tworzy muzykę która wyróżnia się swoim nowoczesnym brzmieniem. 11 marca z mroków wyłonił się drugi w dorobku tego francuskiego duetu album zatytułowany "Assigned, For Disillusion".
"Assigned, For Disillusion" to efekt ponad dwu letniej pracy zespołu, w tym czasie kapela wykrystalizowała swój charakterystyczny styl i brzmienie, krążek czaruje słuchaczy aurą tajemniczości oraz delikatnością podsyconą sporą dozą melancholii, przy tym roztaczając muzyczne pejzaże i siejąc niepokój  gitarowymi plamami. Bardzo inteligentne teksty, pełne symbolizmu, opowiadają o rzeczach bliskich niemal każdemu człowiekowi – o rozczarowaniu, utracie uczucia w które wierzyliśmy, rozterkach związanych z miłością i pożądaniem. "Assigned, For Disillusion" emanuje dziwną magnetyczną siłą która potrafi zniewolić słuchacza i nic w tym dziwnego – szczerość i piękno tego krążka sprawia że nie sposób wysłuchać go obojętnie.
Lyncelia to kolejny dowód na to że we Francji panuje zimnofalowy muzyczny renesans i nic nie zapowiada jego rychłego końca – brawo!