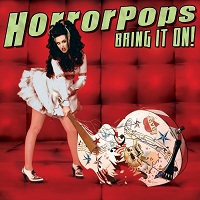 HorrorPops to sajkopop. Przynajmniej taka jest ich ostatnia płyta. Niektórzy za to ich nie lubią. Lecz nie ma co płakać. Moim zdaniem naprawdę miło się tego słucha. Debiutancki album "Hell Yeah" (Hellcat Records 2004) brzmiał co prawda ostrzej, ale nic to. Zespół pochodzi z Danii, obecnie siedzą w USA, a tworzą go Patricia Day z mężem Kimem Nekromanem (Nekromantix) oraz Niedermeier. Pani gra na kontrabasie a panowie na gitarze i perkusji. Podczas występów towarzyszą im tancerki go-go. Był jeszcze drugi gitarzysta ale odszedł. Wystąpili nawet w Polsce. I tyle tytułem wstępu.
"Bring it on!" w porównaniu do swojej poprzedniczki brzmi tak jakby została nagrana w Stanach a debiut jeszcze w Europie. Ostrzejsze utwory mają łagodny szlif, wszystkie wyposażone są w chórki, dużo sympatycznych dźwięków i taneczną oprawę. Teledysk do "Where You can't follow" to typowa kolorowa, hollywódzka produkcja. Mimo tego płyta trzyma tempo. Zaczyna się jak Nekromantix – szybkim (oczywiście nie tak szybkim…) rozklekotanym kontrabasem, wpadającym w ucho refrenem i dobrą zwrotką ("Freaks In Uniforms"). Zresztą w każdym utworze słuchać wpływy macierzystej kapeli Kima Nekromana a już szczytem autoplagiatu jest "Walk like a zombie" (skądinąd hit) przypominające "Dead girls don't cry" (również hit). Co absolutnie w tym wszystkim rządzi to dynamiczny i wszechstronny głos Patricii. Głos niski i słodki zarazem. Może to jej wina, że każda piosenka to potencjalny hit a moje typy to "It's been so long", "S.O.B" i wspomniane "Where You can't follow".
Są też momenty słabe, wręcz naiwne, lukrowane partie gitar, banalne chórki i głupkowate konstrukcje ("Undefeated", "Caught in a blondie"), które spokojnie mógłby odegrać zespół Virgin. To taka łyżka dziegciu, która psuje odbiór tego albumu. Aha, są też tacy co oskarżają Patricię o "zmiękczenie" Nekromantix (patrz: ich ostatnia płyta). Generalnie gdybym miał oceniać "Bring it on!" to dałbym : 6/10.
HorrorPops – "Bring It On!" – Hellcat Records 2005