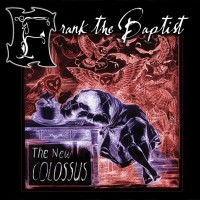 W jakimś wywiadzie z Frankiem przeczytałem pytanie o to, jak zespół poradzi sobie z trzecią płytą, bo trzecie płyty są dla zespołów przełomowe – wychodzi więc na to, że przełomowa jest dla zespołu płyta pierwsza (bo to debiut), druga (bo będzie porównywana do debiutu), trzecia (bo coś tam) i tak dalej. Nieważne na ile jest to prawdziwe – skupmy się na muzyce.
Trzecia płyta tego stacjonującego w Berlinie, a pochodzącego z San Diego zespołu ukazała się w marcu tego roku i jest najlepszą rzeczą, jaką dotychczas udało się zespołowi nagrać. Frank stworzył niesamowite melodie, które wraz z jego oryginalnym, od początku rozpoznawalnym głosem i ciekawymi tekstami (w dużej części dotyczą one relacji damsko męskich) tworzą typowy dla tego zespołu melancholijny klimat, który nie pozbawia jednak muzyki energii i czadu. Takie kawałki, jak "If I Speak", "Harlot Of Nations", "Ever" czy "Scars Forever" to hity, które normalnie leciałyby w radiu, gdyby nadawało ono jakąś sensowną muzykę. Podobnych kawałków jest jeszcze kilka, a każdy od razu zapada w pamięć.
Polecam również zwrócić uwagę na okładkę – dawno nie widziałem tak fajnej. Ale to już w przypadku produkcji Franka Chrzciciela standard, że z równą dbałością traktowana jest zarówno zawartość krążka, jak i jego oprawa.
Podejrzewam, że będzie to najlepsza w tym roku płyta deathrockowa – na razie nie widzę niczego, co mogłoby jej zagrozić.
Frank The Baptist – "The New Colossus" – Strobelight Records 2007