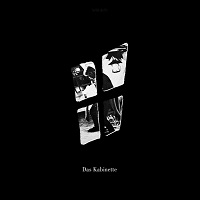 "In the cabinet lies Cesare
Who has slept these 25 years
Cesare knows all secrets
Ask him to look into your future"
I oto, zgodnie z przepowiednią zawartą w tekście utworu wydanego na pierwszej płycie, po 25 latach zespół wydał drugie dzieło opatrzone nazwą Spy Thriller. Jest to nie tylko gratka dla kolekcjonerów, z uwagi na limitowaną edycję (500 sztuk) w okładce z wyciętym oknem, ale przede wszystkim dla sympatyków grupy. Pierwsza płyta oferowała dwa nagrania i oprócz tego, iż utwór The Cabinet zawarty został również na składance A Tribute To Flexi-Pop Vol.2, żadnych oficjalnych nagrań nie można było nabyć.
Trójka muzyków uraczyła słuchaczy sześcioma nowymi nagraniami i są to tak dobre utwory jak i wspomniany wcześniej The Cabinet. Sporo analogowej magii połączonej z tanecznymi beatami, a wszystko oplecione ekspresjonistyczną dawką tajemniczości. W ucho wpadają kawalki: Next In Line, z ciekawym połączeniem brzmień klawiszy, ale też The Evil Of His Kiss z rewelacyjnym, melodycznym refrenem. Dobra pozycja na samotne pląsy w wiosenne wieczory. Polecam zimno!
Das Kabinette – "Spy Thriller" – Minimal Wave 2008