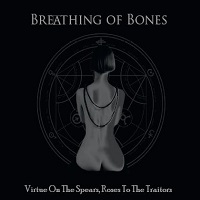 Nakładem wytwórni Manic Depression Records ukazał się pierwszy i zarazem ostatni album rosyjskiej deathrockowej kapeli Breathing Of Bones zatytułowany "Virtue On The Spears, Roses To The Traitors".
Ten założony w Briańsku w 2007 roku zespół od początku swojej działalności inspirował się dokonaniami prekursorów deathrocka czyli takich kapel jak Christian Death, Shadow Project, Burning Image, czy też Kommunity FK, w muzyce Breathing Of Bones usłyszymy także odrobinę anarcho-punkowych naleciałości w stylu Crass które doskonale wpisują się w obrzydzenie jakim zespół pała wobec ucisku autorytarnego reżimy, zdrady i kulturalnego regresu współczesnego społeczeństwa. Aktualnie zespół już nie istnieje jednak muzycy zespołu nie osiadają na laurach i szlifują materiał wraz z nowymi projektami muzycznymi – jednym z nich jest Salome's Dance w którym udziela się wokalista Breathing Of Bones – Vadim.
"Virtue On The Spears, Roses To The Traitors" to godna polecenia solidna dawka bezkompromisowego gitarowego deathrocka, będącego wypadkową Shadow Project i Bloody Dead And Sexy. Polecamy!
www.myspace.com/breathingofbones
www.manicdepressionrecords.com