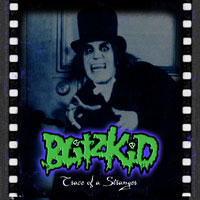 Z kapelą Blitzkid dotychczas nie miałem większego kontaktu. "Trace Of A Stranger" jest faktycznie pierwszą płytą zespołu, którą mam szanse przesłuchać w całości. Powaliła mnie ona jednak na kolana! W dobie pseudo-deathrocków spod znaku Cinema Strange, Blitzkid udowadniają, że USA może nam jeszcze wiele w dziedzinie deathrocka pokazać. Kapela pochodzi z USA, gdzie tradycja horror punka jest długa, aczkolwiek bardzo monotonna. Większość tamtejszych zespołów kopiuje w dużej mierze The Misfits.
Także Blitzkid się od tego nie uchronił (Mam tu na myśli głównie sposób darcia ryja przez wokalistę). Da się jednak także odnaleźć wiele paralel do takich legend punkowych jak The Exploited czy UK Subs. Oprócz fanów horror punka, na swoje wyjść powinni także fani tradycyjnego punk rocka, choć może ich dziwić typowo horrorowa tematyka tekstów.
Całość płyty kojarzy mi się z początkami gatunku, kiedy wyróżnikiem przynależności gatunkowej zespołu był jego image. "Trace Of A Stranger" to dobra, naładowana energią płyta która powinna się spodobać wszystkim fanatykom horror-punka i deathrocka. Nie stanowi ona żadnego przełomu ani odkrycia, spędziłem przy niej jednak kilka miłych chwil.
Blitzkid – "Trace Of A Stranger" – Antidote Records 2003