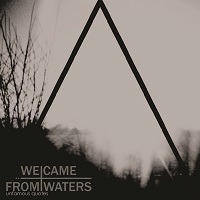 Grecja – kryzys, zamieszki, problemy. Czy aby na pewno mamy dobre skojarzenia? We Came From Waters, zespół który zadebiutował w 2011 roku ze swoją EPką "Famous Quotes", a następnie w 2012 wydał płytę "Unfamous Quotes" udowadnia nam, że ten kraj ma o wiele więcej do zaoferowania.
Kapela oferuje nam zupełnie świeże, oryginalne spojrzenie na post-punka. Do dyskretnych, ale wyczuwalnych elementów elektronicznych, wprowadzają przeszywające dźwięki gitarowe, które frywolnie tańcują przez cały album.
Głos Alexa, który miejscami przywodzi na myśl melancholijnego Glenna Danzig'a dopełnia album, nadając mu unikalny charakter. Twórczości We Came From Waters definitywnie nie można nazwać naśladownictwem. Swoją muzyką wyznaczają nową drogę. To coś co może zainteresować fanów Bauhausu, Joy Division, The Cure i Interpolu. Wydawcą płyty jest znany dobrze już chyba wszystkim miłośnikom post-punkowych mroków label AFMusic.