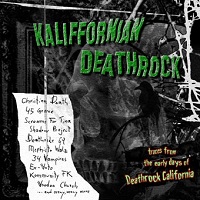 Składanki ze Strobelight-Records zawsze stały na wysokim poziomie… i tym razem jest tak samo, a może i nawet lepiej. "Kaliffornian Deathrock" to składanka opracowana przy współpracy ekipy Strobelight Records i amerykańskiego DJa – Rickbatsa, organizatora imprez deathrockowych – "Stitches", zawarte na niej są nagrania archiwalne, także wiele nigdy wcześniej niepublikowanych, przedstawiające powstanie i rozwój Kalifornijskiej sceny deathrockowej.
Wśród 17 nagrań zawartych na składance usłyszymy utwory kapel znanych szerszej publice będących markami samymi w sobie (Christian Death, 45 Grave, Voodoo Church, wystarczy spojrzeć na tracklistę…), obok nich usłyszymy też muzykę zespołów, o których dotychczas niewielu fanów deathrocka słyszało, a ich muzyka to prawdziwe killery na które warto zwrócić uwagę, np. 34 Vampires, Kill Sister Kill, Texas Vamps. Praktycznie nie ma tu jakiś słabych kawałków. Dodatkowo na krążku znajdują się dwa teledyski The Deep Eynde, na pewno nie będą one pełnym odzwierciedleniem zjawiska zwanego deathrockiem, ale są miłym dodatkiem cieszącym oko i ucho.
Mocną częścią wydawnictwa i prawdziwym skarbem jest 24-stronicowy booklet zawierający m.in. krótkie opisy zespołów, wypowiedzi ich członków oraz promotorów dotyczących deathrocka, setlisty, plakaty, niepublikowane zdjęcia z prywatnych kolekcji. Dodatkowo znajduje się tutaj historia deathrocka, niestety tylko w języku niemieckim, spisana przez Thomasa Thyssena (organizatora imprez deathrock/batcave – "Pagan Love Songs"). Thomas próbuje przedstawić w niej genezę, przybliżyć ważniejsze fakty i zespoły, wprowadzając nas w wyjątkowy klimat deathrocka.
Krótko mówiąc to naprawdę świetna składanka, którą mogę polecić każdemu, zarówno osobą chcącym uzupełnić swoją wiedzę muzyczną i poznać coś nowego, jak i starym deathrockowym wyjadaczom, którzy na pewno znajdą tutaj także coś interesującego dla siebie. Można powiedzieć że "Kaliffornian Deathrock" to taka mała, bardzo mocna pigułka z napisem Deathrock.
Tracklista:
01. -intro – KXLU underground radio May 1986
02. Screams For Tina – Graveyard Mary
03. Like Wreckage – Burning Waters
04. Kill Sister Kill – FeverDream
05. Christian Death – Mysterium Iniquitatis
06. Voodoo Church – Eyes (Second Death)
07. Super Heroines – Night Stalker
08. Astrovamps – Ghost Train
09. Mephisto Walz – Eternal Deep
10. Kommunity FK – We Will Not Fall
11. Deathride 69 – Mescalito
12. 34 Vampires – 34 Vampires
13. Ex-Voto – Waiting For The Dawn
14. Texas Vamps – If I Don't Wake Up Today
15. Shadow Project – Under Your Wing
16. Element – In The Nitetime
17. Burning Image – Haunted
18. 45 Grave – Procession (live)
+bonus videos The Deep Eynde – Baboo / The Deep Eynde – Hoodoo
V.A. – "Kaliffornian Deathrock" – Strobelight-Records 2006