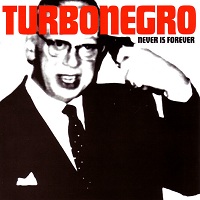 Po dwóch latach od wiekopomnego debiutu przyszła pora na nowy album Turboczarnuchów. Zespół zmienia w międzyczasie wokalistę i w ten sposób posadę krzykacza obejmuje Hank von Helvete, który zajmie tę pozycję już na stałe, wprowadzając przy okazji kolejną niezdrową dawkę perwersji i obleśnego scenicznego show.
W porównaniu do debiutu mamy tu trochę zmian, kompozycje zyskały trochę ogłady, stały się bardziej melodyjne i urozmaicone – gdzieniegdzie pojawiają się gitary akustyczne, chórki, jest funkowy wstęp do "Übermensch" i tak dalej. Dostajemy również doskonałą parodię grunge'u w "(He's a) grunge whore" – tak, jest to utwór o Kurcie Cobainie, który jeszcze wówczas żył, a w którym to utworze Turbonegro przepowiedzieli jego samobójczą śmierć (!!!). Na szczególną uwagę zasługują też m.in. "Pain in der Arsch, pocket full of cash" (podobno oparty na autentycznych przeżyciach wokalisty, zgadnijcie o czym opowiada) i przebojowy "Oslo bloodbath pt. III".
Szkoda, że zespół podczas występów na żywo koncentruje się głównie na nowszych nagraniach i od kilku lat konsekwentnie omija kawałki z pierwszych dwóch płyt. Warto jednak znać te kompozycje, by zobaczyć, jak kształtowała się muzyczna ewolucja tej wyjątkowej bandy szaleńców.
Turbonegro – "Never Is Forever" – Bitzcore 1999 (reedycja)