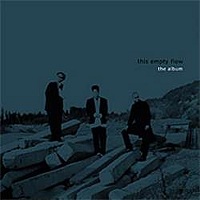 This Empty Flow to zespół powstały w 1994 roku, pochodzący z fińskiego miasta Turku, jego założycielami byli muzycy doom-metalowego zespołu Thergothon: Jori Sjöroos (wokal, gitara, programowanie automatu perkusyjnego) oraz Niko Sirkiä (klawisze, teksty), wkrótce do składu dołączył Aku-Tuomas Mattila (bas), lider lokalnej goth-electro kapeli Sad Parade. Członkowie This Empty Flow grali już jednak muzykę zupełnie odmienną od tej, którą grali w swych wcześniejszych zespołach. W 1997 roku This Empty Flow zawiesili swoją działalność, głównym powodem tej decyzji było to iż muzyka zespołu zaczęła odbiegać od początkowo wyznaczonego przez członków kierunku muzycznego i muzycy nie widzieli dalszego sensu kontynuowania projektu pod nazwą This Empty Flow.
Na 2-płytowym wydawnictwie zatytułowanym "The Album" znajdziemy sporą dawkę muzycznych umiejętności This Empty Flow – na pierwszym krążku umieszczony został album "Magneta Skycode" z 1996 roku w zremasterowanej wersji, a na drugim cała masa niepublikowanych wcześniej utworów nagranych w okresie od 1994 do 1996 roku. Na "The Album" usłyszymy oryginalną mieszankę hipnotycznych dźwięków tworzących gęstą, niczym londyńska mgła, atmosferę, łagodnych melodii pełnych melancholii, nadbudowanych subtelną elektronikę.
Muzyka This Empty Flow powinna przypaść do gustu wielbicielom nowofalowych klimatów, odnaleźć można pewne podobieństwa do faithowego The Cure, momentami do Cocteau Twins, czy dość wyraźne podobieństwa do Radiohead. Na pewno nie jest to płyta łatwa w odbiorze dla każdego, ale jeśli lubicie czasem posłuchać dobrego przyjemnego "smucenia" to zostaniecie oczarowani klimatem "The Album" This Empty Flow.
This Empty Flow – "The Album" – Eibon Records 2006