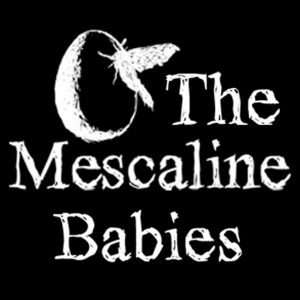 Formed in 2009 by Sydney Mars and Kalle Darkal, The Mescaline Babies are a deathrock / batcave band with heavy post punk / goth influences. A crossover between Bauhaus, Corpus Delicti, Scarlet's Remains, Christian Death and Mephisto Walz. They record a bunch of pieces at home. After few months they complete the line-up with Daniele (bass) and Luca (drums), and they registred "The Mescaline Babies Ep", on limited edition numbered 30 copies which were sold out after a few days. Encouraged by the positive results, they decide to record another EP, "There will come soft rains", and distribute for free the "Unlistenable" EP, wich contains two tracks from both the EPs. After some gigs in Europe, Zorch Factory Records decides to distribute "Unlistenable Ep". After a season of gigs that touched Prato, Genoa, Rome, Modena and Zurich again (this time sharing the stage with important international bands such as Tyske ludder, Deadcell and Vroudenspil), Luca and Daniele leave both the band due to artistic divergences. Sydney and Kalle finish by themselves the recording of their debut album, "CRUSH", which give them the opportunity to sign for Bruno Kramm's (of Das Ich fame) Danse Macabre records in March 2012.
"There Will Come Soft Rains Ep" was released a couple months later in June 2012 by the same record label with 6 tracks. "This Corrupting World of Berries Ep" was released in Februari 2015 with 4 new tracks and fans could download them for free from their website. A fine present for those who love them. In may 2015 they released "Primer", a CD & digital album comming with a autograph on request.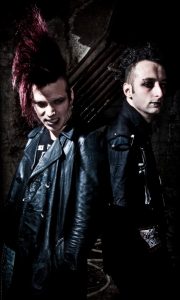 Before I start I would like to share this personal fan storie:
In the summer of 2014 which is exactly 3 years ago today I took one night at a youth hostel after I did spend some time at a girlfiend of mine her place that organise WaveTeef Fest in Antwerpen. Because I grind loud on my teeth I gave her some space since she could not sleep from my horror teeth grinding sounds. I checked in at the youth hostel and there was only one room left at the attic with some girls from Australia and one from Italy they said. Sounds fine to me. While I came in the trashed room with one sided clean space I took a bed while I tried to relax a bit before heading out to buy some black devil cigarets and a drink. A pretty lady with red hair came in and I asked her if she mind if I play some music. It was fine with her. We started to talk while I had my hair up those day's as in a death hawk in white blond and black and she told me her brother had a death hawk too in the colour peacock blue, how lovely. My phone ringed while I had set The Mescaline Babies – Skeletons kids as a ringtone. We had some nice conversations and I left to come back in a hour. Down in the park i enjoyed a black devil cigaret while I thought how lovely this Italian stranger is. The next day we talked again and she told me again about her brother and that he is a singer in a band. I was getting curious at this point and asked her the name of the band so I could search up for it. "The Mescaline Babies" is the name of the band he is in she said and my mouth felt open to realise in those seconds how small this world is to bump into a singer his sister from a band I adore while I had a song from them set as a ringtone in the this same period.
Let's shake , rattle and roll…
Where does the name The Mescaline Babies come from?
SYDNEY MARS: Well, one day it just came into my mind, and I thought it was cool… it's a very energic name, that's why I like it! Even if it took a while to me to get used to it.
Are you more inspired during the day or during the night to write lyrics and make music?
SM: Generally during the day, then it depends when will I put my hands on pen and paper! Or my laptop. My head works continuosly, even if most of its produce is nonsense gibberish.
Kalle: It depends more from the mood, if I am in the mood to write something good or not. I am just sitting and playing my guitar, and if something good happens I press rec on my recorder. So it could be day or night either.
Where are the song's about and do you hold back things you would like to scream out or do you just go for it?
SM: Most of the lyrics are about things I need to scream, stuff that in the real world generates a strong emotional response (happiness, anger, despair). Sometimes it takes a while for certain feelings to set into words, and more time for the words to rhyme and accompany music: I noticed that in my personal favorite compositions, words and music are born together.
People who don't know Deathrock, Goth or Punk are kind of scared from it, how do you think they come to being in that state while they could understand by listening?
Kalle: They need to be open and willing to discover new music styles. I spoke with a lot of people judging several music genres just with prejudice, for those kind of people there's nothing you can do, they will still listen the same shitty music for the rest of their life.
SM: Deathrock is a very specific sound, that evokes a very specific atmosphere… I understand is not for everyone. And to be honest, it's a good thing that everyone likes and dislikes
completely different things! I agree completely with Kalle, though… we should embrace each other difference, and enjoy it together.
Are you working on a new album? Would you prefer cd's or vinyl?
Kalle: No, because I would like to play our last one on tour! You know, we did just two gigs after "Primer" and it's a shame because I think is a really good album! I love vinyl for several reasons: they smell good, they are bigger and you can have a bigger artwork and stuff like that… but on my car I will always use cds!
SM: I personally prefer cds, probably just because it's the format I grew up with (cassettes are pretty cool too, and very cheap). I would like to tour for 'Primer' too, there are several
tracks that live could smash everything! Then we'll see what happens, you never know.
Would you like to start another band? In which genre if so?
Kalle: Actually I started years ago a new project, called "Sunchild", where I play shoegaze and alternative stuff. Soon I will realise some eps and an album. I still don't know if I will bring it live on a stage, but if I will have the chance, why not?
SM: I have another band already, since few years, called Broken Time Structure… we do some weird sort of Industrial rock mixed with 90s alternative and analog synths. Plus,
I have a few songs for an eventual solo project… nothing established, though. Again, we'll see what happens.
How was touring so far and what was the most memorabele night and why?
Kalle: One word: amazing! I love to play live on stage, meeting new people, fans, touring different cities… I had a lot of memorabele nights honesly, I can't pick up just one!
SM: Well, I could quote every single gig we did since 2010! Our scene around Europe is filled with amazing people… We hope to embark in a new tour also because of this, we still have
lots of places we would like to play in!
Which country would you like to play when you are on tour again and do you rather like to play for a small audience or big audience and festivals or in a club?
Kalle: I would like to play in countries that I never been there to play before, like France, Finland, Spain… Also an U.S. tour could be great! In my opinion I like to play in small clubs, where the energy is really raw and strong. We played in big venues in the past, like at Wave Gotik Treffen, but I still prefer small venues… I don't like big spaces!
SM: To be honest, as long as the crowd is good, I don't mind if the venue is small or big.
Would you like to make some more music vids. with The Mescaline Babies and who you would like to direct and shoot the vid. If you could choose?
Kalle: Making music videos is always a great choice to promote our music but it's also expensive and it takes a lot of time and effort. If I can choose… mmmh I don't know… Tarantino would be great! A lot of blood and violence! Or George Lucas! We could play on that video dressed like Siths… Or maybe an easy solution: calling Matt Groening for a video Futurama alike!
SM: I would probably try something with David Lynch, or Christopher Nolan… which are both out of budget, unfortunately. I'd love to release a new music video.
What are you personal thought on our subculture these day's? What would you like to change or do you prefer that it stay like it is?
Kalle: I love subcutures because they are basically a bunch of people doing something different from the masses, where you can always learn something different, from music to political views. One thing I would like to change: lately, more and more people care just about appareance, like dresses or makeup. I won't say it isn't important, it is! But not JUST make up and wardrobe. People need to focus more on music, culture, art, ideologies, and after that on makeup and dresses! But not only on appearance!
SM: I have been disappointed with the lack of will to innovate I have seen, in the past years: lots and lots of clone bands, that are very succesful in the scene because they re-propose
the sound of old school bands, without twisting even tiny a little bit. I mean, I love Christian death, but their first album is nearly 40 years old, we should try to evolve the concept.
Which band or artist inspire you?
Kalle: A lot of different artists inspire me everyday. My fav band is The Smashing Pumpkins, but I listen a lot of different music, from deathrock to punk, from alternative to experimental. Lately I am often listening to Melt Banana, Pink Floyd, Christian Death, Smashing Pumpkins and Rachmaninoff. It really depends from day to day to me.
SM: Recently I'm listening to a lot of shoegaze and noise rock. Then, well, post punk is always in my thoughts.
Do you see dancing shadows at night that whisper melodies in your ear?
Kalle: No, but I can hear them.
SM: Sometimes. Some other times, I like to think it's me whispering in their ears.
www.themescalinebabies.bandcamp.com
Interview by Sophi Katz