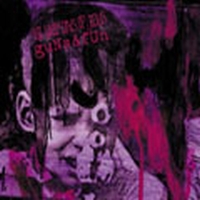 O nowym singlu The Last Days of Jesus od jakiegoś czasu jest już głośno. "Guns'n'Drums'n'March'n'Fun", jak zespół sam stwierdził, ma być przedsmakiem tego, co zespół zamierza robić w przyszłości. Płytka ukazała sie nakładem własnym zespołu, niezadowolonego z dotychczasowej współpracy z wytwórnią EMI.
Ciekaw byłem nowego krążka, tym bardziej że na płytce znajduje się klip do "Army of God", zdecydowanie najlepszej piosenki z poprzedniej płyty, "Songs From The Psycho TV". Zastanawiałem się, czy może istnieć w ogóle porządny klip do piosenki takiej jak "Army of God". Przyznam się bez bicia, że na palcach jednej ręki można policzyć klipy, które mi się podobały. "Army of God" do nich nie należy. Zrobiony bardzo amatorsko nie pasuje mi do szalonego, wręcz lekko chorego klimatu piosenki.
Ale do rzeczy… "Guns'n'Drums'n'March'n'Fun", tytułowa piosenka. Już pierwszy rzut ucha na piosenkę skłania mnie do wniosku, iż The Last Days of Jesus zmierzają do grania czegoś na kształt deathrocka. Piosenka jest świetna, szybka, brudna, nie traci jednak specyficznej dla Słowaków gitary, tak dobrze znanej z "Narrentanz" i "Songs from the psycho TV". Co mniej cieszy, to dwa elektroniczne, taneczne, remixy zamieszczone na krążku. Może są one i świetne na gotyckie potańcówki, jak dla mnie są jednak syntetyczne i nudnawe.
Zadaję sobie tylko pytanie, czy The Last Days of Jesus zauważyli możliwość i wskoczyli na fale ostatniej mody na deathrock czy na prawdę zaczęli interesować się tego typu graniem. Krążek ma swoje plusy i minusy, zachęcił mnie jednak do czekania na mający się niedługo ukazać długogrający album.
The Last Days Of Jesus – "Guns'n'Drums'n'March'n'Fun" – Wydanie Własne / Batcave.sk 2003