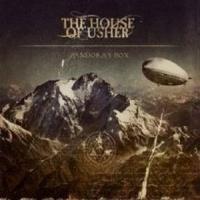 Ósmy album niemieckiego goth-rockowego zespołu The House Of Usher, zatytułowany "Pandora's Box", kolejny raz udowadnia, że zmiany mogą iść w parze z zachowaniem wierności wobec siebie i wykonywanego gatunku muzycznego.
Na "Pandora's Box" znajduje się 12 klimatycznych utworów łączących patos i czystą melancholię – od pierwszych sekund "Pandora's Box" łatwo odgadnąć muzyczne źródła zespołu, album bowiem jest głęboko zakorzeniony w rocku gotyckim lat 80′, prezentuje swoje muzyczne dziedzictwo i zaskakuje nowymi rozwiązaniami. The House of Usher nie zamykają się na nowe wpływy, wręcz przeciwnie – jawnie wykorzystują je, udowadniając, że w roku 2011 rock gotycki może brzmieć nowocześnie.
Tak jak to było w przypadku wszystkich poprzednich wydawnictw zespołu począwszy od wczesnych lat 90′, album dopełnia opowiadanie – w tym przypadku jest nim "Die Büchse der Pandora" ("Puszka Pandory") stanowiące tło i most łączący utwory na płycie. Z drugiej strony, muzyka stanowi soundtrack do tego opowiadania pełnego niezwykłych obrazów i okultystycznych cytatów. Tym sposobem muzyka, literatura i sztuka wspólnie zapewniają szerokie pole dla własnych interpretacji, czyniąc z "Pandora's Box" wielowymiarową syntezę sztuki. Wydawcą płyty jest label Equinoxe Records.