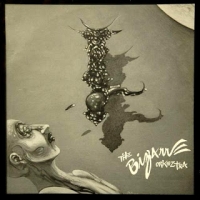 The Bizarre Orkeztra to stary zespół ze Szwecji, który działał od początku do końca lat osiemdziesiątych. Powstały na gruzach punkowego PF Commando, wydał przez czas swojego istnienia trzy albumy i kilka singli we własnej niezależnej wytwórni Ambush. Tworzyło go trzech -ssonów i jeden -berg i na tym w zasadzie kończą się moje informacje na temat tego zespołu; trudno znaleźć cokolwiek więcej, więc skupmy się na muzyce.
"Land" to dwunastocalowa EP-ka wydana w 1984 roku. Co na niej dostajemy? Cztery znakomite utwory, które w ogóle nie odbiegają poziomem od tego, co grało się wówczas w Brytanii czy Stanach Zjednoczonych. Jest to po prostu porcja świetnego, klimatycznego gotyku, wzbogacanego niekiedy dosyć oszczędnymi klawiszami. Muzyka jest raczej spokojna, ale słychać w niej ukryty pazur, czego dowodem jest np. ostatni na płycie utwór "Traveling man" – najbardziej dynamiczny ze wszystkich.
Szwedzka scena miała wiele podobnych perełek, dziś niestety już raczej zapomnianych i przyćmionych przez legendy z Wielkiej Brytanii i Stanów Zjednoczonych. Polecam jednak zdobycie utworów Bizarre Orkeztra, bo naprawdę warto. Kilka utworów znajdziecie do odsłuchania na www.myspace.com/bizarreorkeztra.
The Bizarre Orkeztra – "Land" – Ambush 1984