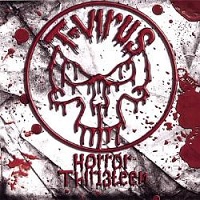 Po zobaczeniu prasówki na temat tego albumu trochę się przestraszyłem – wynikało z niej bowiem, że T-Virus gra muzykę, która spodobać się może fanom nie tylko Misfits, Social Distortion czy Turbonegro, ale również miłośnikom popularnych cieniasów z HIM, The 69 Eyes czy nawet Rammstein. Powiało grozą, ale po przesłuchaniu albumu wynikać może co najwyżej, że był to najzwyklejszy w świecie chwyt marketingowy. Odetchnąłem więc z ulgą.
Muzyka tych pięciu Szwedów to mocno melodyjny horror-punk, który szczęśliwie nie zawiera żadnych wieśniackich, popowo-metalowych zagrywek a'la wspomniany powyżej HIM. Zamiast tego mamy wyraźne inspiracje korzennym rock'n'rollem (takie np. "Horror night" brzmi niczym żywcem ukradzione młodemu Elvisowi), zagranym umiejętnie i z wyczuciem. Wszystko wzbogacone fajnymi klawiszami, które nieco łagodzą brzmienie zespołu, ale i dodają mu oryginalności, o której niestety pomarzyć mogą jedynie kolejne niemieckie i amerykańskie klony Misfits. Całość oczywiście na najwyższym poziomie technicznym, wykonawczym i brzmieniowym, co w Szwecji jest normą. Tekstowo – horror-punkowa sztampa, ale czego można spodziewać się po zespole, który nazwę bierze od wirusa gnębiącego ludzkość w serii Resident Evil? Kawałek oddający hołd temu cyklowi gier i filmów zresztą też się na "Horror Thir13teen" znajduje.
Fajna płyta, która w dobie niemal kompletnego braku oryginalności w horror-punku pokazuje, że można do tego gatunku wnieść coś świeżego. Na koncercie pewnie porywają do tańca całą salę.
T-Virus – "Horror Thir13teen" – Blood and Guts Records 2005