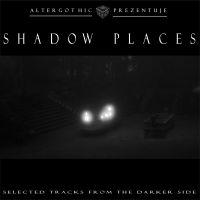 1 kwietnia do sprzedaży trafi składanka "Shadow Places: Selected Tracks From The Darker Side", jest to kompilacja prezentująca polskie zespoły tworzące w szerokim nurcie dark independent, wśród kapel o wyrobionej już marce, takich jak The Proof, Hyoscyamus Niger, czy Deathcamp Project, znalazły się również zespoły będące absolutnymi debiutantami (Cabaret Grey).
Wśród prezentowanych 13 utworów jakie usłyszycie na tej płycie trudno jest wskazać faworytów – różnorodność artystyczna zespołów, które znalazły się na tym wydawnictwie powoduje że będziecie mieli do czynienia z wykonaniami o odmiennych odcieniach stylistycznych – melodyjny darkwave, rock gotycki, zimna fala – szuflady można mnożyć w nieskończoność.
20 marca 2011 uruchomiony został preorder – łączny koszt wraz z wysyłką składanki "Shadow Places" to 12 złotych. Zamówienia można składać na adresy mailowe: margot@altergothic.pl oraz pinhead@altergothic.pl.
Więcej informacji: tutaj