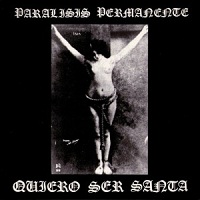 Parálisis Permanente to legenda. Dla Hiszpanów taka sama, jak dla nas… Wybaczcie, trochę się zapędziłem, bo tu nie ma porównania. Ten pochodzący z Madrytu zespół działał tylko przez trzy lata, od 1981 do 1983 roku. Były to jednak trzy szalone lata, a wpływ ówczesnej działalności zespołu widać gołym okiem także dziś i to nie tylko w twórczości zespołów z Półwyspu Iberyjskiego, ale i choćby naszego śp. Miguel & The Living Dead (którzy, nawiasem mówiąc, czasem nawet grywali cover Parálisis Permanente).
"Quiero ser santa" to czteroutworowa EP-ka, na której znajdują się utwory o kompletnie nic mi nie mówiących tytułach: "Unidos", "Yo no", "Quiero ser santa" oraz "Un día en Texas". Każdy z nich to dynamiczny hicior, w którym czuć punkową energię (pomyślicie o The Clash) wzbogaconą charakterystycznym klimatem typowym dla taniego horroru. Tekstów nie rozumiem w ogóle, ale mam powody by przypuszczać, że są to zaangażowane liryki o typowych społecznych problemach – wilkołakach, wampirach, zombich i seryjnych mordercach.
Ta płyta to klasyk i jeśli lubisz chociażby Naughty Zombies, to warto poznać ich protoplastów – zespół, bez którego mogliby dziś w ogóle nie istnieć. Kawał historii pokazujący, jak kreatywnym nurtem był i wciąż może być deathrock. Warto to wziąć pod uwagę, gdy na fali powrotu popularności gatunku wypływa coraz więcej zespołów-klonów, których jedynym atutem bywają jedynie podarte pończochy i kolorowe irokezy.
Parálisis Permanente – "Quiero Ser Santa" (EP) – Tres Cipreses 1982