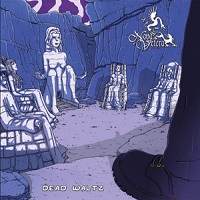 Właśnie ukazała się debiutancka płyta zespołu Nova Et Vetera zatytułowana "Dead Waltz", album ten to wynik współpracy wytwórni Une Nuit Cent Lunes oraz Manic Depression – album ten ukazał się w limitowanym do 300 sztuk nakładzie wydanym na 12″ winylowym krążku.
Nova Et Vetera to francuska kapela której historia sięga 1999 roku – dotychczas mięli na swym koncie 3 mini-albumy – w końcu nadszedł czas na duży album! Muzykę jaką wykonuje zespół jest ciężko jednoznacznie podpiąć pod jakikolwiek konkretny gatunek muzyczny – muzycy określają sami to co tworzą jako gothic tribal rock w czym też jest wiele prawdy. Plemienne rytmy, magiczny, hipnotyczny klimat dzięki któremu słuchacz może odnieść wrażenie, że został wciągnięty w środek tajemniczego pogańskiego rytuału – to coś co może się spodobać i utkwić głęboko w naszej podświadomości. Jeśli mielibyśmy doszukiwać się porównań Nova Et Vetera do innych zespołów to byłyby to takie kapele jak Norma Loy, Neva, można odnaleźć podobieństwa do wczesnych dokonań solowych Jacquy Bitch'a oraz niewątpliwie Rosa Crux – w kompozycjach Nova Et Vetera usłyszymy jednak zdecydowanie więcej typowo deathrockowego sznytu w stylu choćby nieodżałowanego Sleeping Children. "Dead Waltz" to album na który powinni zwrócić szczególną uwagę miłośnicy deathrocka rodem z kraju Charles'a Leconte de Lisle – i naprawdę nie zawiodą się tym krążkiem!
Warto też wspomnieć o tym że członkowie Nova Et Vetera przykładają olbrzymią wagę do koncertów, ich występy to prawdziwe przedstawienia pełne symboliki oraz nawiązań do dawnych pogańskich obrzędów.