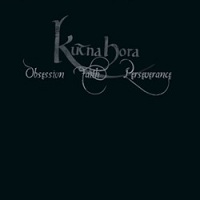 Kutná Hora – stolica powiatu Kutná Hora w kraju środkowoczeskim, w Czechach w odległości ok. 65 km od Pragi.
Kutna Hora – zespół z Argentyny poruszający się w klimatach neofolku, ambientu i darkwave z wyraźnymi wpływami europejskiej muzyki dawnej (sakralnej, ludowej, dworskiej). Ich druga płyta "Obsession, Faith, Perseverance" to 13 całkiem sprawnie zagranych i zrealizowanych kompozycji. Niestety słuchając Kutna Hora docenia się tylko inspiracje a nie autorską działalność.
Pierwszy utwór "Our Lady Of Siedlec" jest jedynym interesującym (obiecującym!) i wartym wspomnienia. Mroczno-ambientowy klimat, jakieś krzyki w ciemności ("Go home, in peace, I've seen enough blood, but if you want more, I can't stop you."), kościelne dzwony, chóry, ciekawa motoryka. Wiadomo, że to wszystko już było ale, o dziwo, nadal potrafi sprawić przyjemność. Powiem wręcz, że początek płyty zapowiada zupełnie co innego niż usłyszymy dalej. Po chwili zostajemy zawiedzeni i z niczym. Dalej jest co raz gorzej, muzyka zaczyna być zdecydowanie harcerska. Na pierwszy plan wychodzą gitara akustyczna i wokal. I tak już do końca płyty. Przed oczami pojawiają się niedomyci harcerze i katolicko rozmodlone harcerki z menażkami + druh Boruch czyli typowy wieczór przy ognisku. Sytuacji nie poprawiają pojawiające się tu i ówdzie skrzypeczki, klawisze, mroczne szepty i inkantacje a nawet sitar.
Po wykonawcach z Argentyny spodziewałbym się raczej czegoś innego, czegoś "stamtąd" bo Europę to mam, za przeproszeniem, wszędzie wokół. Także nie polecam. Jest tyle o wiele lepszych wykonawców tego gatunku, nie wspominając o praszczurach sceny, że Kutna Hora można sobie spokojnie darować.
Kutna Hora – "Obsession, Faith, Perseverance" – Ars Musica Diffundere / Black Rain 2007