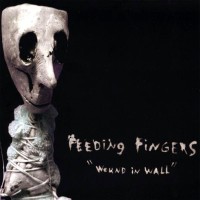 Feeding Fingers to projekt Justina Curfmana, amerykańskiego artysty, który poza muzyką zajmuje się filmem, literaturą i wieloma innymi ciekawymi rzeczami. To wszystko słychać na "Wound in Wall". I nie da się ukryć, że to chyba najbardziej kjurowa płyta roku! Chłód, mrok i smutek w wave'owo-gotycko-popowym sosie. Wszystkie te elementy, które tak pięknie kojarzą się z "Seventeen Seconds", "Faith", "Pornography" i co oczywista nagraniami Joy Divison, Cocteau Twins, Swans, Clan of Xymox czy Echo and the Bunnymen, do inspiracji którymi przyznaje się sam zespół.
"Wound in Wall" to bardzo długie melancholijne kompozycje. Niektóre gitarowe, żywsze ("Mouth filled with sand", "Seafoam Warm Piss", "My Home Again"), nowoczesne ("Fireflies Make Us Sick"), inne bardziej rozmyte ("A Bag Of Broken Hands", "Where Mimes Come To Say Goodbye") i instrumentalne ("This is Yours", "Feeding Fingers", "Theme For A Saw Trothhula Hop") będące czymś na kształt ścieżki dźwiękowej do filmu czy instalacji. Wszystkie naładowane ujemnym ładunkiem emocji. Wokalista śpiewa jakby zaraz miał ciąć, łykać, wieszać lub skakać. Muzyka wydaje się depresyjnym podkładem pod tego typu zabawy. Struktura płyty sprawia jednak, że ostatni utwór daje jakąś nadzieję.
Niektórych "Wound in wall" może zmęczyć. W końcu to 13 utworów! Jednakże pomimo swojej długości wciąga. Romantyczny ton wypowiedzi robi swoje. Oprócz programowej pozy na Roberta Smitha zespół ma też kilka swoich naprawdę niezłych patentów i potrafi zaskoczyć. Szczególnie w momentach gdy jesteśmy już pewni plagiatu. Reasumując Feeding Fingers i ich nagrania są godne polecenia. Nie tylko dla zagorzałych Kjurowców!
www.myspace.com/thefeedingfingers
Feeding Fingers – "Wound In Wall" – Tephramedia 2007