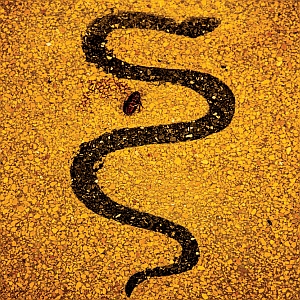 Paris-based Soror Dolorosa creates pure and hungry gothic-rock inspired by post-punk, deathrock and coldwave music. Soror Dolorosa was formed in 2001 taking its name from the novel "Bruges-la-morte" by Flemish symbolist writer Georges Rodenbach, band channels its inspiration's strong undercurrents of passion, nostalgia and mourning, transferring those powerful emotional states into its music and live performances. These signature elements of the group's sonic formula are heard in its muscular songs, jangling guitars, overdriven bass lines, driving rhythms and Andy Julia's distinctive, dramatic vocal style.
Four years took for the band making of the new album entitled "Apollo" and at last we got it! Another music masterpiece signed with Soror Dolorosa's quality mark – a bombastic dystopian world view encapsulated in dark popcraft. Melodic and memorable, the album shines a light on both stunning beauty and haunting sadness with Andy's foreboding, prophet of doom baritone soaring on down a long and lonesome highway full of baroque, exquisite anguish – everything closed in 14 tracks.
Long compared to such pioneers as Fields Of The Nephilim, The Sisters Of Mercy, Joy Division and Bauhaus, it too makes sense that Soror Dolorosa continues to grow its sound and vision; and with "Apollo", they have taken that very next step. For the band, "Apollo" isn't just a new album, it's a spiritual quest.
"Apollo" will be released as a digipak CD, gatefold double-LP and as a deluxe 3xCD/DVD including 72 pages artbook. In tandem with "Apollo", Prophecy Productions will also reissue Soror Dolorosa's entire back catalog which includes "Severance" (with unreleased bonus track), "Blind Scenes" and "No More Heroes", official release date was set for 15.09.2017.