Music For Ordinary Life Machines is a documentary about minimal synth & synth-punk scene in Greece. A movie about guys, who loved synthesizers.
112′ | Color | Greece | 2019 | FB: link
From Choris Perideraio and Anti to Human Puppets and Regressverbot, from In Trance 95 and Alive She Died, to Selofan and Doric. The underground Greek 80's scene, where new wave and punk was expressed via synthesizers, becomes the starting point for MFOLM in order for it to capture the musical subculture in Greece that left an indelible mark on the hearts of those who fell in love with the "machines". A concise documentation of Minimal Synth and Synthpunk scene in Greece since the 80's, starring the synthesizers, the rhythmboxes and the guys who loved them.
Appearing: AΝΤΙ…, Οdos 55, Choris Perideraio, Alexandros, Alive She Died, Blakaut, Convex Model, Doric, The Exetix, Human Puppets, In Trance 95, Kalte Nacht, Kriistal Ann, Methods of Dance, Nesfindonimus, Not Only Bones, Paradox Obscur, Plexiglas, RAW, Regressverbot, RR Hearse, Selofan, Statues in Motion & Tango Mangalore.
Starring: Nikos Aggelis (Choris Perideraio), Kostas Aggelidis (Anti…), Alexandros (Alexandros, 80's Ways Records), Nikos Veliotis (In Trance 95), Daphne Gerogianni (Alive She Died), George Ginis (Alive She Died), Mimis Diplas (Anti…), Pantelis Theodoridis (Regressverbot), Nikos Kapantzakis (Human Puppets, Convex Model, Plexiglas), Stathis Leontiadis (Human Puppets, Doric, The Exetix, Plexiglas), Alex Machairas (In Trance 95), Anna Michailidou (Kriistal Ann, Paradox Obscur), Fodas Xenios (Alive She Died), Kostas Panagopoulos (Anti…), Giannis Papaioannou (Raw, Elfish Records, Mechanimal), Dimitris Pavlidis (Selofan, Fabrika Records, Synthesizer.gr), Joanna Pavlidou (Selofan, Fabrika Records), Giannis Raikos (Not Only Bones), Leonidas Skiadas (Death Disco Club), Labros Tsamis (RR Hearse), Alkis Chatzoglou (Blakaut), Panos Dread (Geheimnis Records), Billy Knight (Statues In Motion), Valisia Odell (Phoenix Catscratch), Philippe Mignon (Not Only Bones) & Toxic Razor (Paradox Obscur, Werkstatt Recordings).
Credits: Filmed, Edited & Directed by Nikos Chantzis | Production: Press Eject and Give me the Tape 1st Assistant Director: Magda Mava | 2nd Assistant Director: George Papafilippou Assistant Camera: Nikos Mpampousis | Script Soupervisor: Sousana Kalemou & Christina Dimitouli Sound: Spyros Kapatos | Backstage Photographer: Marilia Fotopoulou | Sound Mixing: Johnny Labelle Color Correction: Effie Yele | Subtitles: Sofia Papanastasiou | Timing & Editing Subtitles: Μarkos Kritzalis DCP: Authorwave | Poster: Nikos Tsamboukos | Logo: Ultragrim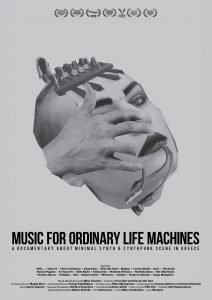 FESTIVALS / OFFICIAL SELECTION:
21st Thessaloniki Documentary Festival (Greece)
In-Edit Greece / International Music Documentary Film Festival [Thessaloniki Edition] (Greece)
FECIBogotá – Feria Internacional de Cine Independiente de Bogotá (Colombia)
6th International Documentary Festival of Ierapetra (Greece)
25th Athens International Film Festival (Greece)
13th DocFest / Chalkida Documentary Festival (Greece)
6th Peloponnisos International Documentary Festival (Greece)
Next Screenings :
01-03.05.2020 Bulgaria, Sofia : Mayday(s) DIY FEST 2020
20-22.08.2020 Sweden, Alvesta : Kalabalik på Tyrolen 2020
10.09.2020 Germany, Augsburg : Young And Cold Festival 2020
30.10-01.11.2020 Belgium, Wommelgem : Waveteef Festival 2020
15.11.2020 Germany, Saarbrücken : BLACK WATER Festival 2020