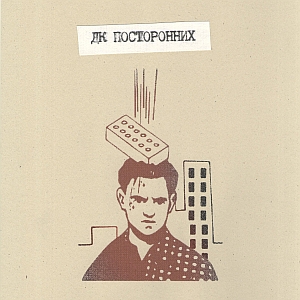 Debut album of duo (formerly trio) from Saint-Petersburg founded by members of old Russian gothic scene – members of such bands and projects like Kultura Rany (Культура Раны), Breathing Of Bones, Eurydice BA2o37 (Эвридика ВА2037). I should say that album of DK Postoronnih (ДК Посторонних – in translation – Recreation Centre Of Strangers) sounds like
She Past Away (Lebanon Hanover, Cold Comfort, Supernova 1006 – you can point here your favorite) meets new Russian wave bands like Ijulskie Dni (Июльские Дни), Chernaya Rechka (Черная Речка), More Yasnosti (Море Ясности), Nauchnyy Sotrudnik (Научный Сотрудник) and etc. There is no doubt that you will find here also spirit of early The Cure from "Pornography" period flying there and we can hear strong influences of synth-punk bands like Human Puppets and The Exetix.
But anyway, while I was listening to this record in 30 minutes I was really pleasured by classic existentialist's ideas in lyric and mood (which is quite good adapted for younger audience in Russia for example), well balanced contemporary coldwave, echoing and ascetic synths parts, simple but appropriate guitars, delayed and pleasant vocal by member of one of the first Russian deathrock bands.
Just for note – DK Postoronnih follows traditions of elder Russian goth scene mates (Breathing Of Bones, Grotesque Sexuality, Salome's Dance, Death Formation) who prefer to play bilingual material. Guys included in this release two original songs in English – "Dead Man's Curve" and "Midnight Waltz" and also cover version of not well known French coldwave band Art Remains Tangible called "T.V.Nut". But to my mind most outstanding songs there are songs in Russian: "Буто Костей" ("Butoh Of Bones") and "Прогулка" ("Walk").
In conclusion I need to say that this guys made very fresh and strong record, so they could find their place not even in Russian new post-punk scene, but maybe in international too.
Also great respect for magnificent cover-art with Dale Cooper and brick falling on his head – I suppose it was a bad time to left Black Wigwam.
DK Postoronnih – "DK Postoronnih" – 2017