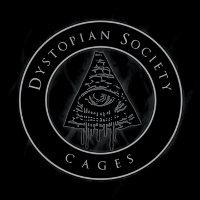 Dystopia to wizja społeczeństwa poddawanego nieustannym represjom i będącego pod całkowitą kontrolą władzy, często nazywana antyutopijną. Przykłady dystopii zostały opisane w wielu powieściach, przede wszystkim w "1984" George'a Orwella. Społeczeństwo dystopijne poddawane jest różnorodnym uciskom ze strony władzy, istnieje w nich wyraźny i ścisły podział ról, zaś pozycja jednostki zostaje zdehumanizowana (w stosunku do współczesnego rozumowania demokratycznego). Kontrola władzy jest totalna, poparta bezwzględnym aparatem przymusu. Ogólnie – raczej pesymistyczna prognoza na przyszłość, popularna szczególnie w literaturze fantastyczno-naukowej.
Ten krótki wstęp okazuje się niezwykle przydatny, jeśli po raz pierwszy ma się do czynienia z włoskim zespołem Dystopian Society. Pochodzący z Florencji muzycy nawiązują do dystopii nie tylko w nazwie kapeli, ale przede wszystkim w swych reinterpretacjach tegoż systemu, których dokonują na krążku o niewinnym tytule "Cages". Max Skam (bas / wokal), Sara Hexe (gitara) i Mariglen (perkusja) nazywają swoją muzykę positive punkiem, zaś klimat albumu jest syntezą melodyczności, grozy i agresji.
Oldschoolowe, burzliwe kompozycje może nie utrzymują w napięciu od pierwszej do ostatniej sekundy, ale na pewno nie jest to wydawnictwo nudne. W miarę słuchania odnajdujemy coraz więcej "smaczków" – skojarzenia ze starym Christian Death, Blood & Roses, a nawet z Dead Kennedys całkiem na miejscu. Wytwórnia AFMusic podaje, że album "Cages" powinien być dostępny od 8 czerwca tego roku w sklepach muzycznych w całej Europie, a ponieważ Polska opiera się wszelkimi sposobami byciu europejską, płytę możemy albo ściągnąć w postaci cyfrowej, albo zamówić online.
www.myspace.com/dystopian_society
www.facebook.com/dystopiansociety11
www.af-music.de