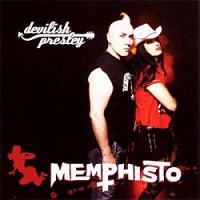 Trzeci album Devilish Presley, czyli Jacqui Vixen (bas, wokal) i Johnny'ego Navarro (gitara, wokal), już od początku daje znać że Brytyjczycy nie idą na ustępstwa, a wręcz przeciwnie brzmienie w odróżnieniu od ich wcześniejszej płyty "Disgraceland" wydaje się być trochę cięższe i ostrzejsze.
Czy to jest rock'n'roll w nowym wcieleniu? Nie, to jest piekielny rock'n'roll! Czyżby sam Elvis opętał zespół? Ach jakby chciało się poszaleć na ich koncercie! Brudne brzmienie gitar, nieco garażowe, w tym dobrym znaczeniu tego słowa, soczyste riffy, nieco zawodzący wokal Johnny'ego i pokazująca swoim śpiewem pazurki Jacqui (zwłaszcza w kawałku "Trucks"), świetnie się uzupełniają. Towarzyszący w tle automat perkusyjny daje wrażenie jakby utwory był pędzącą lokomotywą, której nic nie powstrzyma. Czasem jednak ten jednostajny rytm denerwuje, zwłaszcza w tych spokojniejszych kawałkach jak np. "User Pattern". Na albumie nie brakuje oczywiście tych spokojniejszych momentów, dzięki czemu "Memphisto" jest dość urozmaicone. Zespół nie może narzekać na brak poczucia humoru, widać po nich luz i że to co robią sprawia im ogromną satysfakcje – takiej muzyki chce się słuchać.
Ciężko zaszufladkować Devilish Presley, zespół flirtuje z tak wieloma gatunkami muzycznymi, słychać tutaj psychobilly, glam-punka, szczyptę piekielnego deathrocka. Najlepiej podsumować "Memphisto" jak i wcześniejsze albumy Devilish Presley słowami: everything is possible in rock'n'roll.
Devilish Presley – "Memphisto" – November Tenth Records 2006