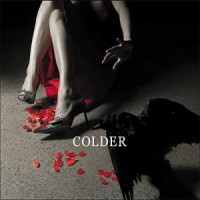 Tytułowego żaru nie brakuje w żadnym z kawałków. Tematyka utworów poświęcona relacjom damsko-męskim, duszny i erotyczny klimat, zaś w muzyce pełen minimalizm. Tak pokrótce można scharakteryzować album "Heat" który jest już drugim w dorobku Colder – jednoosobowego projektu paryskiego graphic designera i video producenta Marca Nguyentana. Jego twórczość to wyśmienite połączenie post-punka i electronic disco! Wydawać się to może dziwne, ale muzycznie ta egzotyczna mieszanka, naprawdę się broni. Przede wszystkim atmosfera jaką przynoszą dźwięki "Heat", od razu przywodzi na myśl Joy Division. Tyczy się to prostoty formy, elektronicznych smaczków, ale również wyeksponowanego basu. Muzycznie bliżej jednak do Suicide czy też Public Image Ltd. z czasów Metal Box.
Jednostajny perkusyjny rytm, motoryczny i pulsujący bas oraz gitarowe akcenty stanowią tło dla elektronicznych dźwięków klawiszy oraz zapętlonych dubowych motywów, gdzie przeważają raczej wolniejsze tempa. Doszukać się jeszcze można ech The Doors: gdzieniegdzie pobrzmiewają organy Hammonda a muzyka staje urzekająco mroczna i seksowna. Do tego nieco dekadenckie (Losing Myself), ale i doskonale nadające się na parkiety utwory o disco-funkowym posmaku (To The Music, Wrong Baby) .
Colder czerpie z dorobku lat 80′ i to zarówno zespołów zimno falowych jak i tych, którym można by dziś przypiąć etykietę 80's/New Wave. Tym samym idealnie wpasowuje się w muzyczną tęsknotę za latami osiemdziesiątymi, zachowując przy tym charakter i własny styl.
Łukasz "Ziggy" Łysy
Colder – "Heat" – Output Recordings 2005