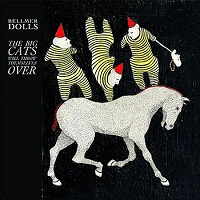 Bellmer Dolls pochodzą z Nowego Yorku i bez wątpienia czuć w ich muzyce artystyczną nutę – jak to na nowojorczyków przystało. Nazwę zaczerpnęli od niemieckiego artysty Hansa Bellmera którego sztuka w latach 30′ wyrosła z dadaizmu i ekspresjonizmu by potem związać się z impresjonizmem, zawsze jednak stanowiła jakby odmienną wartość. Ówcześni impresjoniści koncentrowali się bowiem na wizualizacji marzeń sennych czy też poezji w pewien oniryczny sposób, Hans Bellmer natomiast zdemaskował okrucieństwo i natrętność erotycznych popędów w życiu, a w swych poszukiwaniach artystycznych sięgnął obrazoburczych metod którymi drążył zakamarki ludzkiej świadomości i żądz. Właśnie tym tropem należy podążać wsłuchując się w hipnotyczne ale i obskurne zarazem dźwięki Bellmer Dolls, którzy z miejsca wpisali się w awangardowy krajobraz nowojorskiej sceny muzycznej.
Jazgotliwe i kąśliwe gitary, nerwowo pulsujący bas i naprawdę dziki wokalista czynią atmosferę płyty duszną i nieco dekadencką. Muzyka Bellmer Dolls jest niezwykle gęsta, brudna i bez wątpienia wyrasta z inspiracji hałaśliwymi dokonaniami Birthday Party czy tez południowym stylem Gun Club. Wszystko jest podsycone bluesem i zagrane w emocjonalny sposób. Czuć tu napięcie stanowiące grunt pod teksty prawie wykrzykiwane w nerwowy sposób. Wartością samą w sobie jest produkcja płyty, w roli producenta "The Big Cats Will Throw Themselves Over" Jim Sclavunous związany z tak znakomitymi firmami jak Nick Cave & the Bad Seeds, The Cramps czy Sonic Youth.
Bellmer Dolls to band w którym punk łączy się z bluesem a blues z gotykiem, do tego z lekka egzystencjalne teksty i niespokojne dźwięki a wszystko podane w "artystycznej" oprawie.
"The Big Cats Will Throw Themselves Over" powinno być jak woda na młyn dla wszystkich maniaków brudnego post-punka i miłośników Nicka Cave'a gdy nie śpiewał z werwą godną Leonarda Cohena. Mam nadzieję, że chłopaki zdobędą takie uznanie jak inne nowojorskie lalki – te dowodzone przez Davida Johansena. Jak dla mnie najlepsza pozycja w dorobku Hungry Eye Records która nie idąc na kompromisy wydaje zupełnie niebanalnych artystów.
Ziggy
Bellmer Dolls – "The Big Cats Will Throw Themselves Over" – Hungry Eye Records 2006