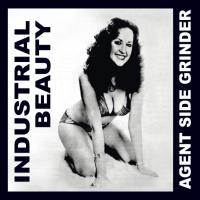 Agent Side Grinder to szwedzka elektroniczna bestia powstała w 2008 roku,  muzyka zespołu to bezkompromisowa mieszanka takich gatunków jak industrial, post-punk, czy retro-EBM. Czego może spodziewać się słuchacz po raz pierwszy mający do czynienia z muzyką Agent Side Grinder? Może spodziewać się chwytliwych, ale nie banalnych, kompozycji w których wprawne ucho doszuka się wpływów takich zespołów jak Joy Division, Einstürzende Neubauten, czy też Suicide – rozpalony, apokaliptyczny wokal, przekuwające industrialne dźwięki, hipnotyczne syntezatorowe sekwencje i stricte post-punkowa praca gitary basowej – ciarki na plecach gwarantowane!
Nakładem wytwórni Manic Depression Records ukazało się 2-płytowe wydawnicto Agent Side Grinder zatytułowane "Industrial Beauty" będące wspaniałą okazją by dokonać pierwszych kroków w kierunku świata unikalnych brzmień kreowanych przez tych szwedzkich eksperymentatorów.
"Industrial Beauty" zawiera kompilację najlepszych utworów z dwóch oficjalnych albumów Agent Side Grinder, na płycie znajdziemy między innymi "Die To Live", "Life In Advance", czy też "Voice Of Your Noise" oraz nagrania koncertowe wiernie odzwierciedlające szalony klimat panujący w czasie występów zespołu. Wydawnictwo uzupełniają dwie kompozycje pochodzące z eksperymentalnego albumu Agent Side Grinder – "The Transatlantic Tape Project".